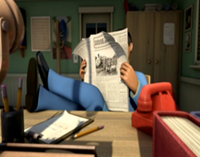 A lot happens on the Thomas the Tank Engine Wikia and we want to keep you up-to-date. So please take a moment to check this page out every once in a while for news, events, and general information that we feel would be of use to you.
October 2013
With SteamTeam3211 dead and Thomasfan89 missing, I NWRTales1221 becomes the King of the wiki and will serve as long as it takes to keep the wiki in good shape.--NWRTales1221 (talk) 04:58, October 6, 2013 (UTC)
September 2013
With King of the Railway's upcoming DVD release, I'd like to let people know that we will not be allowing screen-caps from the movie until after its release in the USA due to spoilers at which point I will provide my usual high-quality images for the special. Thanks a lot, --SteamTeam 08:55, September 23, 2013 (UTC)
For the wiki background, we are experiencing some technical difficulties so we are experimenting with several other ones at the moment. Please excuse that.--SteamTeam 08:55, September 23, 2013 (UTC)
On specials, we don't need a gallery anymore as this wiki's gallery is for episodes. thank you--SteamTeam 08:55, September 23, 2013 (UTC)
Ad blocker interference detected!
Wikia is a free-to-use site that makes money from advertising. We have a modified experience for viewers using ad blockers

Wikia is not accessible if you've made further modifications. Remove the custom ad blocker rule(s) and the page will load as expected.