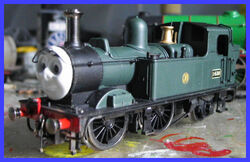 Oliver
Number: 11, previously 1436
Class: GWR 14xx 0-4-2T
Designer: Charles B. Collett
Builder: Swindon Works
Configuration: 0-4-2T
Arrived on Sodor: 1967
Oliver is a Great Western tank engine who works on Duck's Branch Line.
Oliver worked on the Great Western Railway. Sometime during the 1960's, he ran away for fear of being scrapped with his coach, Isabel, and a brakevan named Toad. The three were forced to hide between signalboxes and rely on the goodwill of signalmen to pass at safe times. When control got wind of the runaways, they hid in an old quarry branch and had the cutting blocked by rubbish to avoid being spotted by the Diesels outside. The runaways decided it was safe to leave at some point, but before they could reach the greener pastures of Sodor, Oliver ran out of coal. Luckily, Donald's advice about trucks and several pushed him into the turntable well. Upon his return from the Works, Oliver regained his respect after pulling the ringleader of the trucks, S. C. Ruffey, apart. Oliver has since had many adventures, such as running Thomas' Branch Line during the engines' trip to England, discovering an abandoned house which was later turned into a tea-house, spending a night as a snowman after crashing into one in the village, and being saved by Emily when he was about to be hit by Thomas. He then gave Gordon instructions when he was lost.
Persona
Oliver is the number 11 Great Western steam engine who works on Duck's branch line. He escaped the dreaded scrapyards of the Mainland, mainly thanks to Douglas, but also as the result of sympathetic signalmen, luck, and using "goods only" routes under cover of darkness, with some close calls along the way. Despite his previous heroism and daring feats, Oliver is an engine who is willing to admit every day is a learning curve. When he was still new to Sodor, he let the other engines' responses to his courage, resource, and sagacity from his amazing recounts of daring escapes and adventures get to his smokebox  and he became conceited. However, when troublesome trucks pushed him into the turntable well, he grew into a much more humble, settled engine and was far warier of trucks. But later, with some help from his brake van Toad, he did gain much respect and authority among the trucks when he showed his strength with the ringleader of the trucks, S. C. Ruffey, a little more than he had perhaps been intending. Oliver still has gumption, but is now a more obedient, sensible engine. He feels his responsibility on the railway deeply, is ever thankful for being aided in his escape from scrap by Douglas, and is a trustworthy, tenacious, plucky engine.
Basis
Oliver is based on a GWR 14xx 0-4-2T. The particular engine Oliver is based on, No. 1436, was built at Swindon Works in the August of 1934 and worked until it was withdrawn in 1958. It was scrapped the following year.
Livery
In the Railway Series, Oliver is painted in the GWR's green livery with yellow lining, black wheels and a brass GWR numberplate on his cab side. In the television series, his paint had faded by the time he was rescued, leaving him a rusty-red colour. After his rescue, he was repainted green and has remained so since.
In the Railway Series, he carries two builder's plates on the sides of his cab.
Trivia
Quotes
"Yon's an enterprising engine," Douglas thought. "I won away here with Donald; but I'd've been feared to do it on my own." - Douglas, Enterprising Engines
Ad blocker interference detected!
Wikia is a free-to-use site that makes money from advertising. We have a modified experience for viewers using ad blockers

Wikia is not accessible if you've made further modifications. Remove the custom ad blocker rule(s) and the page will load as expected.