"I'm Fiery Flynn. If you need me - just call. I'll fight any fire! I'll rescue you all!"
— Flynn, Fiery Flynn, fifteenth season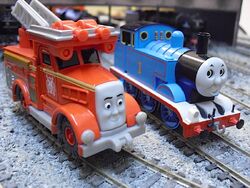 Flynn
Builder: Oshkosh
Configuration: 4w
Flynn is a fire engine who is part of the Search and Rescue Team.
Bio
Flynn worked with Belle on the mainland before they came to Sodor. Belle later suggested to Sir Topham Hatt that Flynn be brought to Sodor to help her fight fires. So Flynn was brought to the island and was instantly popular with the engines, stealing even more of Thomas' attention from Percy than Belle had. Later on, Flynn and Belle helped Percy save Thomas and Kevin from Den and Dart at the Sodor Dieselworks. Flynn also used his ladder to assist welders during the restoration of the Dieselworks.
Flynn had been criticised by Diesel for "just standing around looking fancy", but Flynn soon proved that he was really useful.
Flynn usually runs on the rails despite being a road and rail vehicle. Once, he went on the roads and found himself wobbling all over the place, so he returned to the rails. However, after putting out a fire at a farmhouse, he regained his confidence in using the roads and was able to help Bertie and Butch.
Persona
Flynn is a "really red fire engine" who fights fires on Sodor and is part of the Sodor Search and Rescue team. He has both tyres and flanged wheels, meaning that he is capable of running on roads and on rails. Flynn is fast, fearless, and ready to fight any fire. He is popular with the engines and held in high regard all over Sodor, but his overly-enthusiastic bravado can lead to not listening to instructions amidst his racing about and result in him making mistakes. He can also be self-conscious about maintaining his fire-fighting hero status. Nevertheless, Belle and the rest of the Search and Rescue team are often there to support him and keep him on course and, at the end of the day, Flynn always has it in him to prove that he is always ready to rescue and is a really useful hero.
Basis
Flynn is a hybrid design based on Tatra, Osh-Kosh, and Latil fire rescue vehicles. However, he most resembles a 1964 Osh-Kosh W800 4X4 aircraft rescue fire engine.
Livery
Flynn is painted red with yellow lining.
Voice Actors
Trivia
Flynn is a road-rail vehicle, meaning he can run on both roads and rails.
In Day of the Diesels, and the fifteenth and sixteenth seasons, Flynn was able to operate the hoses on top of his cab by himself, but as of the seventeenth season, firemen have to stand on his cab and operate them for him.
Merchandise
Ad blocker interference detected!
Wikia is a free-to-use site that makes money from advertising. We have a modified experience for viewers using ad blockers

Wikia is not accessible if you've made further modifications. Remove the custom ad blocker rule(s) and the page will load as expected.