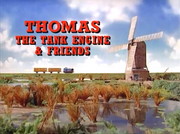 The Classic Series was produced from 1984 to 2003. Episodes from these seasons were five minutes and thirty seconds long, including the introduction and credits. The classic series is considered to be the first seven seasons of Thomas the Tank Engine and Friends.
The British versions were narrated by Ringo Starr and Michael Angelis; the American versions were narrated by George Carlin, Alec Baldwin and Michael Brandon. Ringo Starr narrated twenty-five first season episodes and 16 second season episodes in the US for the first season of Shining Time Station. Michael Angelis narrated two sixth season episodes and 4 seventh season episodes in the US for the VHS and DVD release, New Friends for Thomas and Other Adventures. David Mitton directed the classic series, with Junior Campbell and Mike O'Donnell as composers and Gullane producing it as a independent studio.
Seasons
Ad blocker interference detected!
Wikia is a free-to-use site that makes money from advertising. We have a modified experience for viewers using ad blockers

Wikia is not accessible if you've made further modifications. Remove the custom ad blocker rule(s) and the page will load as expected.